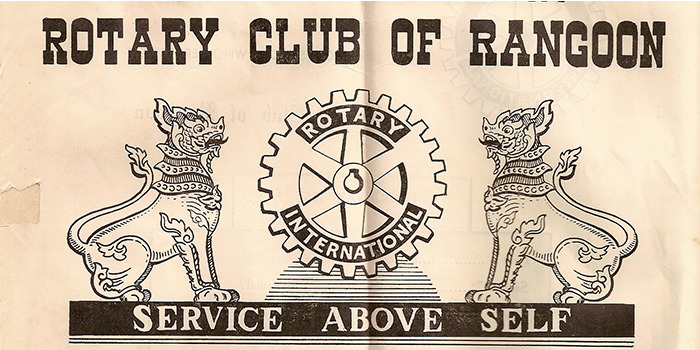 Rotary Club Rangoon was founded in 1929 on Lewis Street (now called Seikantha Street) , followed by 6 other active clubs in Thayetmyo, Mandalay, Moulmein, Taunggyi and Insein.  Leadership included U Ba Swe (1931), the Hon. M. Raschid and later his son Bilal Raschid.  The clubs were obliged to close in the late 60s and early 70s, but fortunately an extensive pictorial history is available.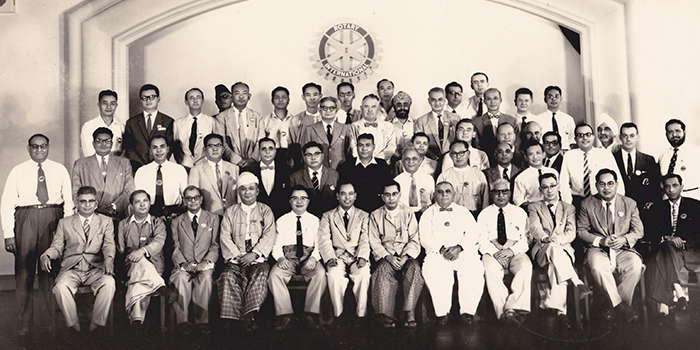 The very first Club was Chartered in Thayetmyo  in early 1929, with Rangoon following around September of that year.
Among the first District Governors were U Ba Win (a Mayor of Rangoon) DG 1948-49; Mr. S, Chatterjee (a journalist) DG 1952-53; and U M. A. Raschid (Cabinet Minister) DG 1959-60.
Burma was in an international Rotary District comprised of 5 countries (Burma, Bhutan, East Pakistan, four States of India, and Nepal). The Rotary District numbers changed over the years, commencing with D 91, then 53 and finally 325.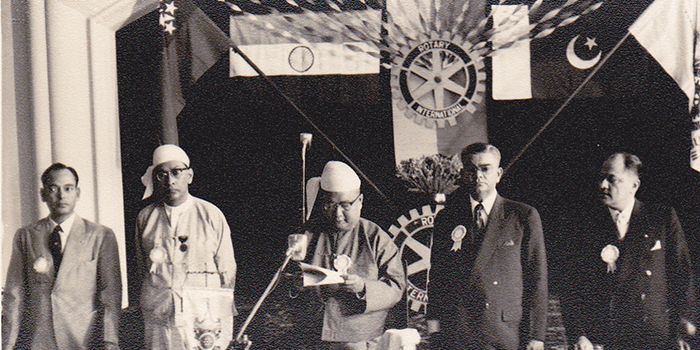 Many thanks to Bilal Raschid and his wife Daw Tin Tin Nu Raschid for providing the following memories:
"The R.C. of Rangoon had some very distinguished members of Rangoon's community. The President of Burma, the Chief Justice, etc were often guests at the Installation banquets. Father and I both served as Presidents. Father was President in 1953-54; followed by Dr. Htin Aung (Rector of Rangoon University) 1954-55. I was the third last President (1969-70), before all NGOs were banned by government order, published in local newspapers, in late 1974. (I was then living in Pakistan, and do not have an exact date). The President after me was U Saik Wah (1970-71). The last two years before Rotary closed down, Past President U Saw Hlaing served as President (1972-73 and 1973-74)."
There were 37 members in 1974, of which 25 were Burmese citizens. The others were diplomats and foreign business executives. 
The Rangoon Club was the last to stop functioning. The other Clubs in Mandalay, Maymyo, Moulmein, Taunggyi, and Insein had stopped functioning earlier.
A note of thanks to Bilal Rashchid and his wife Tin Tin Nu Raschid who have provided these invaluable windows on history.  We will continue to use these resources in periodic updates of the website, especially the lists of previous officers, events and archival photographs.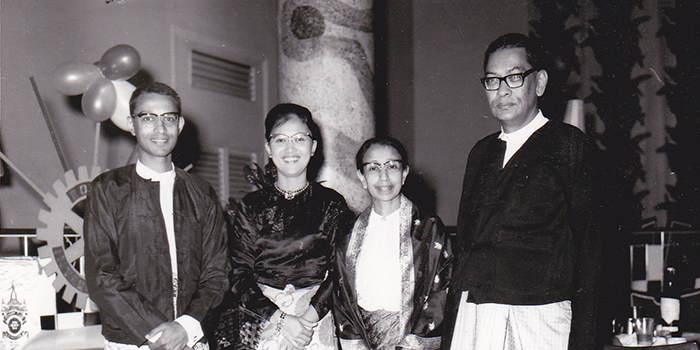 "The group photo of my family shows three Rotarians who achieved prominence in Rotary, namely, my father who served as District Governor in 1959-60. My wife, Tin Tin Nu Raschid, who was among the second group of women District Governors world-wide in 1996-97; was the first ever woman Governor in Virginia, and continues to be the only Asian American woman Governor in Virginia. (It may also be noted that both of us are recipients of Rotary International's highest award, called the "Service Above Self" award; which is given annually by the RI Board of Directors to not more than 130 Rotarians each year. I was the very first recipient of this award in Virginia District 7610, in 1996. And we may be the only Rotary couple in the world with this award). I served as an Assistant District Governor in RI District 7610 in 2006-07. I was also, at age 34, the youngest President of the Rotary Club of Rangoon in its 40th year in 1969. This was mentioned by the outgoing President during my installation. And the third person in that photo, my mother, as a Rotary Ann, founded the Blood Bank, as mentioned earlier." (source;  email correspondence 3 December, 2014)